Paper by Reid Sailer. Viewed on DVD.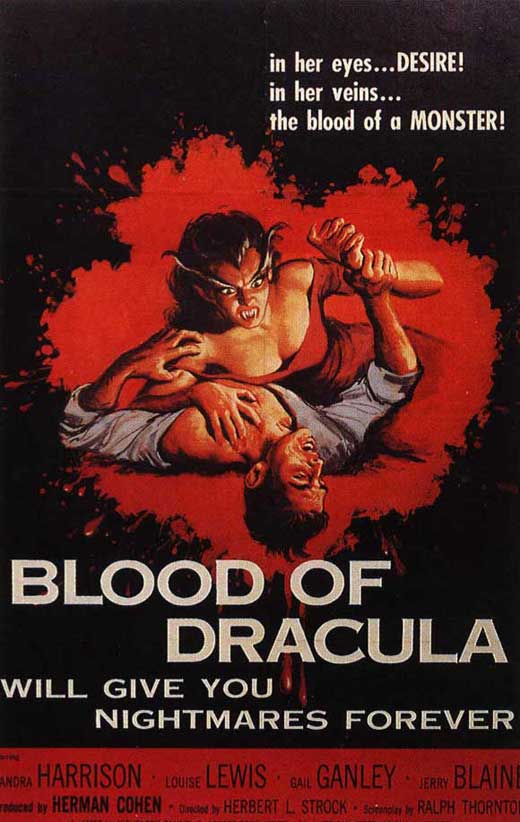 The Golden Age of the Hollywood Studio System was dying. The ruling of the 1948 Supreme Court case, "United States v. Paramount Pictures Inc.", often shorthanded to the "Paramount Decree", resulted in the demolition of the business model that the five major studios had thrived on for the past twenty years. As a result, the death of Vertical Integration in the system allowed for the rise of independent producers who were no longer under the thumb of the major studio heads and their powerful influence. One of the prime examples of this new wave of independent film productions was the American Releasing Corporation, later known by 1956 as the American International Pictures. Headed by James H. Nicholson and Samuel Z. Arkoff, the two found massive success in low­budget genre films for a teenage audience. While the inception of the exploitation film predated AIP, the studio certainly spearheaded the innovation of selling cheap, sensational, and shameless pictures to the nation­wide market, (Cook).
The B­movies that AIP produced were created as quick cash­ins that were meant to entertain in terms of action, sci­fi, horror, or
Paper by Hilarie Haynie. Viewed on DVD.
During World War II, men were sent off to war, leaving the women to tend to the children, household responsibilities and more often than not the workload as well. The ending of World War II made for a struggling transition period especially for women- who had been gaining more independence than ever with their husbands not in the picture, but being left to fend for themselves. Wanting to branch out from the politically correct lifestyle, during this time we see the shift with women in film- becoming the Femme Fatale and the manipulative, smart, under minding beauty in Film Noir pictures, instead of the type casted "perfect home-maker". In this paper, an argument will be made, that women in the classical Film Noir period, was a drastic change from pre-war films and is directly linked to women's gain in independence during World War II. First, an attempt will be made to rationalize the theory that the women during World War II, took over the care of the entire household from the men as they went to war. Secondly, an attempt will be