A Hijacking (Tobias Lindholm, 2012): Denmark
Reviewed by Yuichi K. Viewed at Chinese 3, AFI Fest 2012.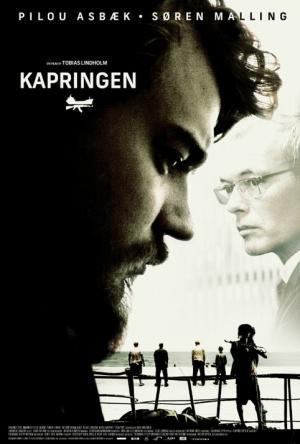 We don't know what happen for us in the future. A Hijacking, directed by Tobias Lindholm, shows such the triggers, and the belongings among people.
Mikkel is a cook in the trader. He and the crews in the ship, peacefully, sails on the ocean. On the other hand, Peter is the CEO of Mikkel's company in Denmark. He spends busy days in his office. One day, suddenly, the bad news comes from Mikkel's ship, which has been hijacked by the Somali pirates. Peter hires a specialist of the pirates, organizes a group for the solution, and confronts the serious situation.
How to communicate is the most important part of this film. Even the telephone they everyday use as their life line doesn't support the negotiation between the Somali pirates and the company in Denmark much. The click dead sounds of the phone calls of each negotiation are very helpless. Despite the confusion of the ship, calmly the negotiation job advances. Therefore, audiences witness the incompatible motivations and reactions in this story: how companies are cruel, how humanities come up, and how the mental difficulties and eases happen between the pirates and crews.
One thing that the point of this film is the hook of the terrible incident. In the Denmark, Peter's daily jobs smoothly goes on. In the usual scene, how the news is surprising for the company, and how the confusion cuts in the trader ship? I'm wondering this peaceful and seamless story development is the director or writer's intention because, at a glance, this opening is too calm compared with common films. This developing is satisfied with an ominous silence, and also unsatisfied with the impact.
A Hijacking won the Audience Award at the US premier, AFI Fest 2012.  Johan Philip Asbæk, known with "R," is starring for Mikkel. His fearless expression and the feelings are very attractive. Søren Malling, is also known with "A Royal Affair." His attitudes in his office are impressive. The director of the film is Tobias Lindholm who is known as the writer of TV series "Borgen" in Denmark.
Extreme conditions yield a lot of sensitive happenings. People can enjoy this film because this is an entertainment. However, possibly, this extreme matter may happen next to you. If you are the participants, can you have lives and money both ways?
---
About this entry
You're currently reading "A Hijacking (Tobias Lindholm, 2012): Denmark," an entry on Student Film Reviews
Published:

11.14.12 / 3pm
Category: